RABBI

Biography | CD "Feel The Love"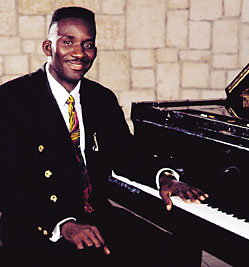 Biography...
Audley Scott, born Feb, 1964 in the western region of tropical Jamaica West Indies. A dedicated, hard working keyboard player, singer and musical arranger who has enjoyed over sixteen years in the music industry.
Audley's brilliant talent has earned opportunities to perform at both All-Inclusive Resorts in Jamaica, the Sandals chain and Super Clubs. He performs as a One-Man band at a newly refurbished Sunset Beach Resort & Spa at Montego Bay Freeport. He also does overseas promotion for Holiday Inn Sunspree Resort every three months. Audley has been accredited by the Royal School Of Music in London via correspondence course.
His first CD entitle "Feel The Love" is a compilation of your favorite love songs, real Jamaican Reggae style songs such as 'Ring of Fire' from Johnny Cash, 'Imagine' from The Beatles, 'Mandy' from Barry Manilow, 'Through The Years' by Kenny Rogers and much more.





"Feel The Love" (1997)

Ring of Fire (J.Carter/M.Kilgore)

Never My Love (D.Addrisi)

Through The Years (Doriff/Panzer)

Imagine (J.Lennon)

Everytime You Go (D.Hall)

Mandy (S.English/R.Kerr)

Stone In Love (T.Bell/L.Creed/A.Bell)

One Hundred Ways (Wakefield/Wright/Coleman)

They Took The Show on the Road (A.Hamilton)

I Wanna Hold Your Hand (J.Lennon/McCartney)

Help Yourself (Donida/Fishman)

Wonderful World (G.Weiss/G.Douglas)

Ring of Fire (J.Carter/M.Kilgore)



Price:
US$ 18.00 in the US and Canada
US$ 20.00 for other countries,
includes shipping and handling.
If your are interested in purchasing a copy of our CD, Please send an e-mail message to mr.msrecords@cwjamaica.com




Home | MoBay | E.T.Webster | Chokey | Yishka | Teddy | Rabbi
Music Clips | Photos | Contact Us | Press | Links


©2000 Mr&Ms Records