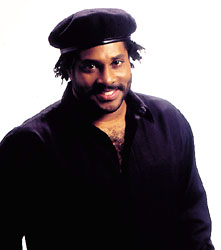 Yishka, which in Hebrew means, 'brings joy and laughter'. His father Teddy Greaves, is a popular and successful band leader, his mother, like his sister, has a good voice, but does not sing professionally, while his Gershi and Asher are all well rounded musician.
Born in Jamaica the family migrated to the Bahamas when he was two months old. He returned to Jamaica with his brothers to go to school, his father was given the contract to form a resident band for a new hotel in Montego Bay. Within a couple years Yishka and his brothers were members of the band. Yishka decided to play the trumpet one night when the lead vocalist for the band did not show up. So his father asked "Who is willing to sing tonight?" Yishka was the first to come forward. It all started to come together there after.
Moving to Kingston, Yishka joined the United Stars, which featured Beresford Hammond as lead singer Yishka playing first trumpet, decided to learn the saxaphone, this was another plus. A year later he joined Soul Syndicate, led by Earl "Chinna" Smith and whose lead vocalist was Freddie McGregor. The band opened for a number of Reggae greats, and also did a lot of studio work which broadened Yishka's knowledge of music and the music business.
He appeared on his first album, " Harvest Uptown, Famine Downtown". And after learning and growing with them for three years, Yishka went to Miami and formed Roots Uprising, Florida's first reggae band. Playing sax and sharing lead vocal, the band soon established itself as a force to be reckoned within the area. Ian and Roger Lewis of Inner Circle fame, recorded two albums with the band, "Beautiful Music" and " Magic City".
Around that time Richard Bryce their keyboard player had heard that Stevie Wonder was auditioning for a lead vocalist for HAPPINESS UNLIMITED, a reggae group he had discovered while on vacation in Ocho Rios, Jamaica. Bryce had wanted to send a tape with only Yishka's voice, but Yishka's insisted that if any tape was sent, it should include the voices of all the brothers. Stevie liked the tape, and although he had only wanted one vocalist, he auditioned all three. The audition went well. Stevie produced an album, which included material penned by Yishka himself.
He returned to Jamaica, and in 1988, together with Faith D'Aguilar won the title of best performers in 'The National Festival Song Competition' with "Can't Stop the Little Man", in 1990 "Dance Let the Music Play", a song which he co-wrote and won Best Arrangement, Yihska was adjudged Best Performer. Shortly after he joined The Desi Jones led SKOOL, a band deep with musical talent, as lead singer and saxophonist.
In 1991 he left to join RIDDIM FORCE, which had received a six month contract to play reggae music in Japan, but were so good, their visas were extended to one year.
With producer Phillip "Termite" Roane, he recorded his first solo CD, simply entitled "Yishka".
One can hear in Yishka's voice and style, the experiences he has learned; a dynamic performer, he is a stylist whose voice always hits the right note, in any language he is the professional's professional...reggae's ultimate voice.